I share
Mohd Hafiz Noor Shams
and
Reme Ahmad
's perspective on the news that the Economic Planning Unit (no less) had briefed some unidentified economists that several iconic building projects are being implemented "
as part of efforts to boost the country's gross domestic product (GDP)
".
Apparently three sites in the city have been identified for the development of iconic structures to spur growth in the economy. Sources say they are Dataran Perdana in Jalan Davis, the area surrounding Stadium Merdeka and the vicinity of the Matrade Centre in Jalan Duta.
All the plots of land are reported to be "privately owned".
It is also reported that two plots belong to government-linked companies — Pelaburan Hartanah Bumiputera Bhd and Permodalan Nasional Bhd (PNB) — while the Naza group owns 25ha in the vicinity of the Matrade Centre.
Two of the plots have building designs that contemplate 100-storey skyscrapers.
First, what's with the phallic urge? Many of us thought that the twin phalluses in KLCC has more than pointedly thrust Malaysia into the the global void (ahem!).
Second, and more (im)pertinently, what is the nexus between iconic buildings and GDP?
The wise people at EPU need to brief more than just unidentified economists. They should brief the rest of Malaysia on this new correlation between the construction of iconic buildings and the GDP. This is very unconventional thinking. It needs to be explained.
Third, what's with the obssession with iconic buildings? How come we're not fixating on building more iconic Malaysians?
Fourth, do iconic buildings have to be phallic in structure?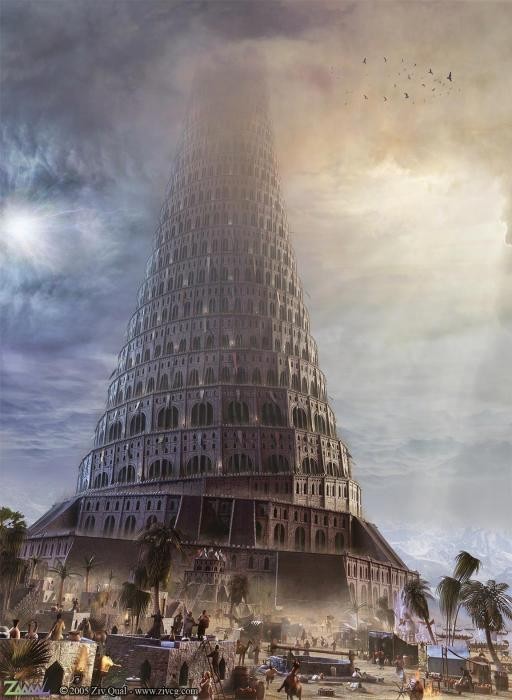 pix from
here
.
Fifth, what's with this Tower of Babel fixation?
Most importantly, how are these projects going to be funded?
I'm leaving aside the issue of feasibility because it is quite obvious that the EPU champions of these iconic projects are convinced with at least 3 things:
One, all iconic buildings are feasible, especially if they are at 100-storeys.
Two, because all iconic buildings are feasible they will contribute to the GDP.
Three, the hardware of buildings are still far more important than the software of developing human capital through education since building hardware yields short-term physical and quantitive results while the software of education is difficult to measure since it is qualitative.
Got it? I don't...