Taking an ASEAN-centric perspective of the world is necessary and relevant. This is particularly so for the people who live in Southeast Asia.
It is in this sense that I find
Simon Tay
's book,
Asia Alone: The Dangerous Post-Crisis Divide From America
, compelling.
.
At the risk of an unfair summation, Tay's core proposition is that whilst both the United States and China perform their delicate dance at many levels, both nations need to take cognizance of the virtuous leveraging effect that ASEAN can play as a middleman of sorts.
One analogy of Tay's thesis is that ASEAN is the hub while China is a spoke.
The other analogy that strikes me, being Malaysian (of course) is the idiom
Gajah sama gajah berjuang, pelanduk mati di tengah-tengah
.
In other words, Tay is mindful that ASEAN is a stakeholder in the tense jostling between the U.S. and China. More than that, Tay is voicing an ASEAN perspective and makes a case that ASEAN has a pivotal role to play as a positive interface between the U.S. and China.
I dare say that ASEAN has hitherto engaged and, understands the nuances of both the U.S. and China at every level - cultural, political, social and, most certainly, economic.
That said, there are a few observations that may be relevant.
(I will continue in a bit. Got some things to do first. *sigh*)
Everyone knows Samuel Huntington's thesis about the clash of civilizations.
For us, in ASEAN, our biggest fear is not so much hegemonic projections by either the U.S. or China.
No, I submit that our biggest fear must be that of becoming irrelevant in a multi-polar or, worse still, bi-polar world.
The fear is not so much political irrelevance so much as economic irrelevance.
We risk becoming economically irrelevant if the U.S. and China enters into economic amity. Thankfully, that "IF" is a big and unlikely one given the significant relationship gaps between the two giant nations.
In this regard, it is not only ASEAN that is thankful, so would be the Europeans and South Americans.
That said, many are aware that the U.S. is the "yang" force aggressor in the China-U.S. relationship. It is the same story between the U.S. and just about any other nation.
At 200+ years of age, the U.S. is a relatively young country. Wealthy (still) and misguidedly dogmatic and doctrinal. What annoys everyone is that the U.S. wants us all to photocopy and imbibe the Declaration of Independence and the U.S. Constitution.
Their world view has vestiges of sanctimony. They freely admit their faults but doggedly maintain that in an imperfect world, their model of values comes closest to the ideal.
This value system finds some degree of expression in the heroic ability of John Wayne to discharge a single shot from a Colt 45 and bring down half a dozen Native American Indians, the ability of one Bruce Willis to turn the tide against a well-armed group of terrorists, the courage and recklessness of one Clint Eastwood to defy convention and rules to bring down the bad guys with his trusty Magnum gun (with the classic phrase, "Make my day").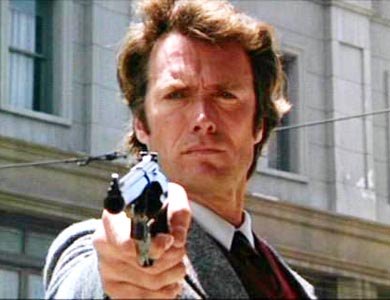 .
As the rest of the world are entreated with this message, we are also treated to the wonders of Cola drinks, popcorn and jeans.
Many believe that this form of pop culture carries an ideological thread that is exported globally to widespread acclaim.
What exasperates the U.S. is that after the visual and audio imagery ends, the rest of us walk away from the cinemas back into our dictatorships and corrupt practises!!!
Of course, I have been simplistic in painting the foregoing. But, I believe there is a grain of truth in it.
How else do we explain the general support of the U.S. populace toward the Invasion of Iraq and the War in Afghanistan?
How else can we explain why even Obama, who is definitely more enlightened than Bush Jr. continue to subscribe the the Occupation of Iraq and Afghanistan?
Simon Tay's proposition is, if I may say, a reminder that being a little cluster of nation states, ASEAN should see the abrasive U.S. worldview as an opportunity for the little guys to use themselves as bridges between the U.S. and larger countries like China and, even india and, possibly even the Middle East.
This would be a strategic coup and an astute mode of tactical leveraging.
.
And, what would be the dividend for ASEAN's offer of being a bridge?
Okay, world peace and regional peace is *yawn* the obvious public line.
The real intent should be to gain economic benefits.
That would make the endeavour worth the effort.