Sourced from
here
:
Tomorrow, the most eye-catching tie in the third round of the FA Cup will see old enemies Manchester United and Leeds United go head to head for the first time in nearly six years.
Back then, in February 2004, Leeds earned a 1-1 draw at Old Trafford thanks to a goal from Alan Smith — but the club was falling apart at the seams. A sustained bout of extravagant spending on expensive, high-earning players such as Robbie Keane, Rio Ferdinand, Mark Viduka and Olivier Dacourt had taken them to the semi-finals of the Champions League (in 2001), but also created a financial timebomb that was in the midst of exploding.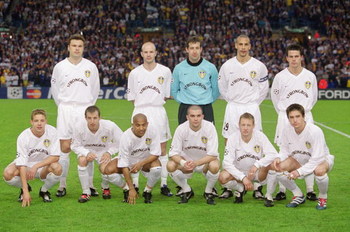 pix from here.

Leeds chairman Peter Ridsdale and manager David O'Leary had been gambling money they didn't have in an over-ambitious attempt to become regular Champions League contestants and thereby earn back the money they had already spent. When those heady levels of success proved elusive, they were stuck with a debt mountain that nobody was in a position to pay off.
Players were sold in a desperate attempt to balance the books, leaving an inexperienced squad with insufficient quality to compete in the Premier League, never mind on the European stage. With Ridsdale, O'Leary and their superstar signings long since departed, Leeds were relegated in May 2004. But the financial scars remained and they continued to spend beyond their means. Three years later, they were relegated again, placed into administration and very nearly ceased to exist.
Now, it seems Leeds are making strides on the long road back to regaining the top-flight status they have enjoyed for the vast majority of their history. With their debts finally paid off (or waived), they're currently eight points clear at the top of League One, promotion to the second tier looking almost certain. But there's still a long way to go before former glories are restored, if they ever are.
Leeds' descent and fall was so spectacular that you'd expect it to serve as a cautionary example for other ambitious clubs — a kind of textbook on how not to run a Premier League football club. But it hasn't. Their tale of woe is far from solitary, and it seems inevitable that other clubs will continue to follow them all too eagerly down the fast-lane motorway to ruin.
Southampton, for example, spent 27 consecutive seasons in the top flight before getting too big for their boots, deciding they could become a top-six club and spending accordingly. One bad season was enough to relegate them in 2005, a year after Leeds, and they're now in the middle reaches of League One after narrowly fighting off extinction in the summer.
A few miles along the south coast, Portsmouth's situation looks even more perilous. Years of unsustainable investment brought the short-term glory of winning the FA Cup in 2008 but the long-term damage of massive debts and no way of paying them.
Having been forced to sell all their best players (Peter Crouch, Jermain Defoe, Glen Johnson and Nico Kranjcar, to name but four), Pompey are currently firmly rooted to bottom place in the Premier League, forbidden from conducting any transfers until debts from previous purchases are paid off, have just failed to pay their players on time for the third time in four months, and have been given a winding-up order over unpaid tax bills. Did they learn nothing from Leeds?
West Ham will be looking forward to tomorrow's cup tie with Arsenal as an opportunity to cause an upset, but they're not too far behind Portsmouth on the road to oblivion. The story is familiar –—over-investment in average players (£80,000 (RM440,000) per week for Lucas Neill?!), unsustainable spending, then panic selling of key assets, leading to an uncompetitive squad and the threat of relegation. If West Ham are relegated at the end of the season, they could become another Leeds.
These financial implosions will continue to unfold as long as the Premier League remains the unregulated free-market scramble for success that it is today. With no central controls on spending, clubs are left to make their own decisions about how and where they invest, leaving directors and managers free to chase their unrealistic ambitions and bring their clubs to the verge of meltdown.
When they watch Leeds taking on the champions at Old Trafford tomorrow, everybody connected with a professional football club in England should realise how far and how easily the mighty can fall if financial mismanagement is allowed to take control. They should see a club that was once regarded as one of the game's powerhouses now reduced to enjoying an occasional day in the sun for a cup tie that has little meaning for their opponents. They should understand that splurging vast sums of borrowed money in the pursuit of success is not the wisest strategy. They should, but they won't.